At The Sports Physio Clinic, we believe in treating everyone in a professional manner - without forgetting friendliness & compassion. We aim to make a positive difference in the lives of the people we meet - always seeking to help manage & resolve injuries efficiently & effectively to their conclusion. All staff seek to work as a team, and use the strengths of our colleagues to improve the care of our patients. We all aim to improve our skills & knowledge through regular professional development, and ensure we remain passionate about the work we do & how we do it.
Andrew Ryan AppSc(Phty) MHlthSc(SportsPhty) | APA Sports Physiotherapist | Narrabeen |W Pymble
2012 – 2014 Head Physiotherapist

2010 – 2011 Assistant Physiotherapist
2009-2012 Manly Warringah State League Netball Team
2005 - 2010 Warringah Rugby Union – Grade Coverage

2003 – 2004 North Sydney Orthopaedic & Sports Medicine Centre

2003 Gordon Rugby Union – Grade Coverage

2009 - 2010 Australian U/20's Rugby Team Physiotherapist

2008 Australia A Rugby Team Physiotherapist

2005 – 2007 Australian School Boys Rugby Union
Katie Ryan BAppSc(Phty) GradDip(SportsPhty) | APA Sports Physiotherapist | NSWIS Accredited
2005 - current Director The Sports Physio Clinic Narrabeen & West Pymble
2015 - 2018 ARU: Physiotherapist Australian Men's Sevens

2014 ARU: Physiotherapy Coordinator Australian Sevens Men & Women's programs

2012 – 2013 ARU: Physiotherapist ARU National Academy (NSW)

2004 – 2011 NSWRU: NSW Rugby Academy Physiotherapist

2003 – 2005 Narrabeen Sports Medicine Centre Physiotherapy Pty. Ltd. (NSMCP)

2002 – 2003 NSW Rugby Union: Waratah Assistant Physiotherapist & Sydney Team Physio

1999 – 2002 North Sydney Orthopaedic and Sports Medicine Centre

2001 - 2012 NSW Rugby Union Waratah Academy
2000 - 2001 North Sydney Rugby League Football Club; Physio First Division & Junior Reps

1995 – 1998 Gordon Rugby Union Football Club

1994 – 1995 North Sydney Rugby League Football Club; Physio Junior Reps U15,U17& U19

1992 – 1993 Strapper / Sports trainer North Sydney Rugby League
Kandice Goodwin BPhysio BAppSc(Leis&Hlth) | Narrabeen | Hydrotherapy
Currently completing the Master of Sports Physiotherapy. Kandice has a special interests in using Real Time Ultrasound in deep core retraining & Women's Health.
Manly Warringah Netball Assoiciation 2010-current

Australian Physio Open Womens Softball 2013 & 2014

NSW Open women Softball Head Physio 2009-current

Youth Olympics Head Physio for Athletics Team 2013

NSW All Schools Head Physio 2009-current
Warringah Rats 2009-2011
Annie Garrett BScGradDip(Phty) | Narrabeen
Annie is one of our three most senior physiotherapists who has been at the practice since 1986 managing sporting related injuries for patients of all ages. She also has a special interest in casts & custom splinting.
Casting: synthetic (waterproof) casts for the upper & lower limbs

EOS casting: removable cast

Thermoplastic custom moulded upper limb & hand splints
Karen Forrester BAppSc(Phty) | APA Sports Physiotherapist | Narrabeen
Karen is our most senior and experienced physiotherapist, having worked at the practice soon after its opening in 1984. Karen had the privilege of working with both Greg Craig and Ian Collier in the centre and she has extensive experience and a love of the management of shoulder pathology.
NSWIS Accredited Physiotherapist

Manly Warringah Netball Association - long time affiliation with the club as physiotherapist, player and coach.

Extensive experience in the assessment and management of all sporting injuries.
Alan Robinson BAppSc(Phty) | West Pymble | Narrabeen
Alan joined the practice in 2017, and is a senior physiotherapist at both our locations. He has completed his Masters in Sports Physiotherapy at La Trobe University and has a special interest in ACL injury rehabilitation & injury associated with growth & adolescence.
Sabrina Dibble BScGradDip(Phty)GradDip(SportSc) | Narrabeen
Sabrina is one of our most senior and experienced physiotherapists at Narrabeen. She has been with us since 1998.
Consultant for pre-pointe assessments & management of dance related injuries
Real time Ultrasound - training using the visual feedback of the ulktrasound for deep abdominal and back musculature to promote optimal activation of muscles after pain, surgery or injury.
Lindsay Muir Bsc | Member APA | Narrabeen | Hydrotherapy
Lindsay joined us from the Australian Rugby Union, and before that, from the UK. Her background is in rugby union and rowing - herself competing as a member of Junior and Under 23 Great British Rowing squad from 2004-2008 competing internationally at European and World regattas, and locally in the surf boats at Curl Curl.
2013 - current Australian Rugby & Australian Rugby Sevens
2009 - 2010 Twickenham Rugby Club
2009 - 2010 Imperial College Boat Club, Putney UK
Penny Hanlon Narrabeen | Women's Health & Incontinence Physiotherapy
Penny is an amazing physiotherapist who makes an enormous difference in people's lives through her special interest in continence & women's health address a broad range of issues including:
Urinary Incontinence or leaking with sport, exercise, coughing, laughing & sneezing - for all ages

Sudden & urgent needs to go to the toilet

Pelvic Organ Prolapse & pelvic Pain

Constipation

Core and Postural Stability

Pre and Post Natal Care
Elizabeth Angus (Lizzy) BPhty | Member APA SPA | Narrabeen | West Pymble | Pymble LC
We welcomed Lizzy to the team in 2017 - she is working at all our locations at present. Lizzy is also currently completing the Master of Sports Physiotherapy.
2017 HSBC Sydney Sevens Referees Physio

2012 - 2016 Eastwood District Rugby Union Physiotherapist

2017 Australian Athletics Championships

2015 Pacific World Sports Sevens

2012 - 2016 Beecroft Cherrybrook Junior Rugby
Andy Farley MPhty BHumanMovSt | Member APA SPA | Narrabeen | Hydrotherapy
Andy joined us in 2016, and has recently completed his Level 1 ASCA accreditation.
Completed Human Movement Studies, Master of Physiotherapy (2008)

Level 1 Strength and Conditioning

Dry Needling; casting; hydrotherapy

Football NSW U14s Team Trainer 2007-2009
East Coast Eagles NEAFL physio 2012-2015
Alice Brown BHSc MPhty | Member APA SPA | Narrabeen | West Pymble
Alice joined the physio team in 2017 and has experience working in both netball and rugby.
2015 - 2017 Clinical Pilates Instructor [St George Physiotherapy & Pilates]
2015 - 2017 Southern Districts Rugby Union [2

nd

- 4

th

grade for Southern Districts Physiotherapy]

2017 NSW U17 Netball

2017 UTS St George Sparks Netball Samsung Premier League 2017

2016 Netball NSW venue physiotherapist Samsung Premier League 2016 Season

2016 Australian Rugby 7's Youth Development Camp

2016 Competition physiotherapist Netball NSW State Age Championships Div. 2

2015 - 2016 Netball NSWvenue physiotherapist State Team Trials

2015 Tournament physiotherapist National Rugby Sevens 2015

2014 Tongan netball team (Netball Series in Fiji)
The Sports Physio Clinic Narrabeen | The Sports Physio Clinic West Pymble | © 2014 | Contact Us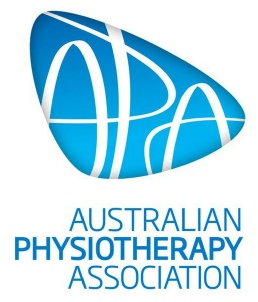 "An APA Sports Physiotherapist is a highly qualified professional with expert knowledge and skills in the prevention, diagnosis and treatment of sports injuries.
An APA Sports Physiotherapist has completed at least four years of university studies & has a comprehensive knowledge of anatomy, biomechanics, physiology, crisis management, assessment & treatment of joint & muscle conditions.
In addition, an APA Sports Physiotherapist has undertaken further studies specifically in the management of sports injuries.
An APA Sports Physiotherapist is a member of the Australian Physiotherapy Association (APA) and is bound by its professional Code of Conduct.
They have undergone a rigorous selection process to ensure that they have the level of experience & knowledge to be awarded the title"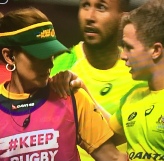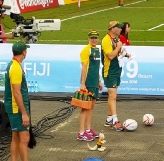 Will Thom BAppSc(Phty) | West Pymble
Will ("golden hands") Thom is a senior physiotherapist at the West Pymble clinic with experience in playing & coaching football (Barker College) and in sports physiotherapy for football (soccer). He has travelled extensively with sport, recently travelling as team physiotherapist to Colombia to the Futsal World Cup 2016. Will is currently undertaking Masters in Sports Physiotherapy at La Trobe Uni.